Life Boat - Party
LARP for 10 players
This LARP is inspired by a game created by Prázdninová škola Lipnice. 
Its characters had been created by participants of Youth Exchanged "Knights 2 – Searching for a Grail" which was funded by Erasmus+.

Materials:
3 matches per person

nametags

in-game alcohol (soft drinks like Fanta)

chips and some small snacks for "party"

costumes (improvised)

printed characters

speaker and music (party music + big crash sound)
!!spoilers!!
EXPLANATION
Organizers explains participants they are going to go on a journey on a boat. Each one of them will get a character they are  going to play.
Organizers will explain game rules
Organizers gives players their characters description.
PREPARATION
Players are having 30 min to prepare costumes.
BEGINNING OF LARP
Caption (NPC) is welcoming everybody on a boat. 
Players are having 0.5-1 hour to act their characters.
TWIST
Organizers plays a huge crash. Lights goes down. Captain is coming, explaining boat just crashed into an iceberg, and it is sinking. But there is not enough Life Boats for everybody. Only 3 characters can be saved.
Each player have 1 minute for speech on who should be saved and why. 
Each players gets 3 matches. They are going around the circle, one by one, and giving matches to the ones who should be saved (including themselves). As much matches as they want to.  They have to look into eyes of each character. 
In the end, 3 characters with the most matches can be rescued. (If there is a  draw, voting is repeated but only for those who got into the final.)
Every survivor have 1 minute for a "thank you" speech. 
End of the game (narrated). 
REFLECTION
RED stop = if player screams this, game immediately stops
No physical violence allowed
Players states before what are their physical boundaries (i.e. no touches, no hugs, etc.)
Kiss = air kiss on one cheek
Sex =  3 times air kiss on both cheeks 
Setting of a game
The guests are on a cruise from Sicily to Corfu to celebrate the 20th birthday of Caspar, Tony and Olga's son. On board are the couple Tony and Olga, their son Caspar, his friend Luigi, another friend Lisa, her parents Priscilla and Patrick, and finally Sara, Caspar's old Nanny who is now a part of the family. Also on board is Robert, the boat's Bartender.
Characters
Read details only if you selected the character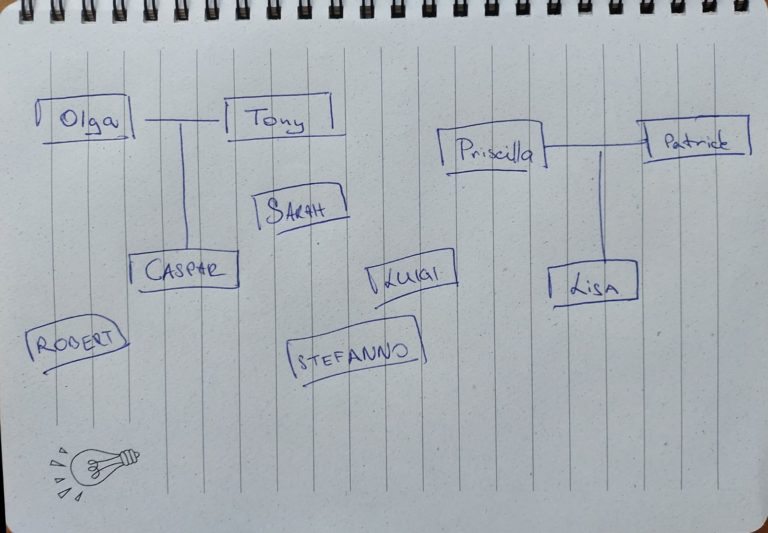 Reflection
"How do you feel?" (give space to express emotions)

"How was it for you to play LARP?" (personal experiences, focus on "I" sentences)

"How did you feel when you were/weren't selected for a boat?" 

Takeaways – what can you take from this experience for your life?