youth exchange | Czech Republic | 27/11 – 7/12 2022 
explore a model of human interactions
in which Physical Touch and Contact are more common
and used to its full healing potential, in an authentic community
Youth Exchange about experiencing safe physical touch within a loving community
When: 27/11 – 7/12/2022 (including travel days) 
Where: Sklené, Czech Republic
For whom: 24 people from Czech, Romania, Lithuania, and Greece
The human touch is that little snippet of physical affection that brings a bit of comfort, support, and kindness. It doesn't take much from the one who gives it, but can make a huge difference in the one who receives it.
– Mya Robarts, The V Girl
About InTouch
Recently, due to the pandemic and its social distancing measures, due to the fact that society is becoming more individualistic,  and also due to the fear of sexual assault, many of us have chosen to isolate ourselves more and more. As a result, screen exposure has increased and Physical Touch became almost an exclusive appendage of romantic and sexual relationships. Many people frown upon touching others in other contexts, and this is proven to increase mental health problems.
InTouch is a youth exchange for youngsters who would like to explore the universe of Physical Touch in a safe environment of a community. The programme will be friendly to those who are not comfortable with intense physical touch. 
The results of the activities of InTouch will be: 
increased levels of oxytocin (the love, trust and connection hormone) and thus, of happiness
reduced blood pressure and cortisol (the stress hormone which is known to cause a variety of physical issues, such as inflammation)
the capacity of improving one's relationship
Who can participate
young people between 18 and 30 years old
group leaders older than 18
participants committed to taking part in the programme, including creating follow-up activities for their communities back home
residents of Czech Republic, Greece, Lithuania and Romania
participants who are looking to develop their ability to use Physical Touch in different contexts and/or feel a deep craving for touch
participants who are dedicated to living in a community based on Scott Peck's method for 9 days and respect the commonly agreed rules
committed to the low alcohol, no drugs and no communication technology (screens that can distract you) rules that are brought by the organizers
youngsters authentically interested in self-development, observing and overcoming personal limitations
youth committed to learn how to communicate and respect each other's boundaries and sensitivities and generally be gentle and considerate
We have space for 24 participants who are committed to participating in the programme.
What is expected from you
full participation in the whole programme (including the preparation before, the mobility, and the follow-up).

contribution of €30 as a participation fee (if this should be an obstacle for you, contact your partner organization in order to receive support from them)
Dissemination activities (follow-up)
in the last day of the project there will be a short brainstorming of ideas for the follow-up activities you'll do after the end on the project – to spread the awareness of safe physical touch to your local communities
the facilitators and partner organizations will offer you full support for implementing your ideas
a while after the end of the project, we will send you an impact form collecting stories about what changes you see as a result of your participation in InTouch
Selection process
start with filling the 

application form

.
every partner organization (see below) will select 5 participants + 1 group leader to take part in the programme.
if you are selected, you will receive a Confirmation Letter with more information regarding your participation. ONLY then you can start managing your travel arrangements and booking your tickets!
if you have any questions, please contact us on an email czechinspire@gmail.com
Important – The community building process 
The community building process will be based on the American psychologist M. Scott Peck's method, described in the book 'The Different Drum' and will be led by a professional in the field during around 2 days in the beginning of InTouch. The method contains four stages: pseudo-community, chaos, emptiness and community, out of which the state of chaos can be very triggering emotionally and might not be fit for everybody.
We recommend researching about this method before applying for InTouch.
We are using this method for the opportunity to heal, live authentically and enhance our physical touch experience in the rest of the project.
Learning Process & Programme
Day 0 (27/11/2022): Arrival at the venue, accommodation, logistics. Setting up the frameworks of the programme and introducing the people involved.
Day 1: Community building 1 
Day 2: Community building 2
Day 3: First day of community (organization and strengthening of community day)
Day 4: Reflection (day to lower the pace and allow you to integrate what they learned so far)
Day 5: Physical touch and boundaries (exercising the boundaries related to physical touch)
Day 6: Types of affection (exploring different types of affection that physical touch – spoken, movement, nature, smiles)
Day 7: Massage day
Day 8: Celebrating life in community
Day 9: Evaluation, anchoring and closing the community
Day 10 (7/12/2022): Departure until 10:00
Reimbursements
If there is a need for a PCR or antigen test upon travelling, please contact the project supervisor (czechinspire@gmail.com) to discuss the amount of the reimbursement
Upon arrival
Before entering the venue, all participants need to take an antigen test to be sure the project is Covid-free. 
If quaranteened
In case of developing Covid-19 symptoms, you will be accommodated in isolation inside the venue. INspire will cover the expenses for your accommodation during the quarantine. You might need to pay for your food if the time of quarantine exceeds the time of the Youth Exchange
Other restrictions
We will follow any regulation according to the current law and Czech authorities' restrictions. 
We will avoid contact with people from outside the programme.
Venue
Sklené (literal translation would be "Glassy" 😀 ) lies 760 m above the sea, in the hearth of beautiful highlands called Vysočina. Many Czechs are visiting the area for outdoor sports like cycling or skiing. In other words: it is beautiful. It is also really cold. Get ready for it.
You will be sleeping in rooms for 4 or 6 people.
Bed sheets will be provided.
Bring your own towels.  
Bring slippers. 
Shops
There is a shop in the village which is rarely open. (Only retired people live in the village anyway)
In case of need, the chef will be going to a nearby city to shop from time from time.
How to get here
You have to be able to reach Žďár nad Sázavou until 18:00, 27/11/2022.
From Žďár, we will take a group bus to Sklené. If you will not be on time, you might miss the bus.
www.idos.cz/en provides list of all connection in Czech Republic.
Conditions
The project is co-financed by the Erasmus+ programme.
The costs of the programme, including meals, accommodation, and travel costs (according to the maximum amount of money allowed per country) will be covered by the Erasmus+ programme. Please contact your sending organisation to learn more about the financial details, and how to arrange the booking of your travel tickets.
Very important!
The travel expenses will be reimbursed on the basis of tickets, bookings and invoices, so remember to keep them all with you!
Travel Reimbursement
Erasmus+ calculated maximum amount of travel reimbursement you can receive based on the distance band.
If there is written GT (Green Travel), it means participants cannot travel by plane.
€320         Lithuania (GT)
€275          Greece, Romania
€23            Czech Republic (GT)
Participation fee
There is a €30 participation fee, to be paid in cash upon arrival to YE. We perceive this fee as proof of your motivation and commitment to take part in the programme. This will be used for financing the local dissemination activities after the training. 
If it is an obstacle for you, please contact your partner organization or Project Supervisor, and they will support you by discussing alternatives.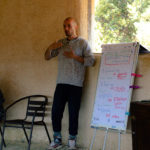 I am a dreamer, a former linguist and a creator of opportunities for youth like myself. 
I studied Classics in Bucharest and Linguistics in the Netherlands, but after 2 years in the relatively northern country, I realized I had left aside a big and most important part of myself, and that is the social life and growing my social skills. I subsequently lost my motivation to continue on the academic path and came back to my home country, Romania, in pursuit of something related to working with humans. A few months later I participated in my first Erasmus+ youth exchange and it had such a deep impact on me that I knew I wanted to participate in many more, but also to create such powerful experiences for others.
A few formative experiences later, I am still in the beginning of my path as a facilitator, but already writing projects and facilitating them. My main interest is personal development through community building, nonviolent communication, arts, physical human touch, dance and theatre.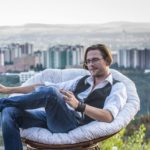 I am a trainer, facilitator, coach, storyteller, and writer.
I hold a Master degree from Media studies and journalism at Masaryk University, and years of experiences as a journalist in daily press, radio, and different magazines, but also as a marketing specialist, copywriter, blogger, content maker, scriptwriter, graphic designer, and writer. For two years, I had cooperated with the Career Service of Masaryk University. 
I have worked for 6 years as a scout leader, after that he took a break from being a youth worker for a few years and returned to it after participating in EVS program in Olde Vechte Foundation in the Netherlands. I had become a coach, facilitator, and trainer with a focus on personal development, storytelling, and usage of games for education.
The main topics I am focused on are labor market, social inclusion (mainly of the LGBT+ spectrum), and personal development. The main methods I am using are storytelling, coaching, systemic work, body movement, art, gamification, and LARP.